DGS, or Digital Gaming Solution is based in Costa Rica. They are known for their sportsbook software the most. But their sports betting platform features also expanded to horse racing, casino and more. They also offer mobile and point-of-sale sports betting software. But for today's review, we'll be doing a DGS sports betting software review.
DGS claims to have an easy to use call center clerk as well as lines management interface. This is designed so that players of any skill level can easily navigate their site. In fact, DGS is one of the top software sportsbook gambling providers in the market today.
DGS Sports Betting Software Information
DGS Sports Betting Software Info
Inception: 1998
Location: Costa Rica
Platform: DGS (They created DGS)
Telephone: 1-866-398-5446
Live Chat: yes
email: sales@dgscr.com
Website: www.dgscr.com
DGS Betting Software Products

Sports Betting Software
Horse Racing
Digital Gaming Software
Online/Digital Casino
Gambling Electronic Point of Sale
Mobile Betting Solution
Customizable features
DGS Sports Betting Software Review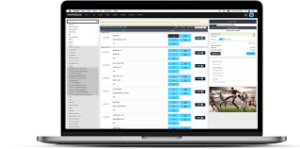 DGS has been around since the 90's. And when you talk about gambling providers, DGS is a term that comes up all the time. This is because a lot of sportsbooks actually use their software. So when it comes to reliability, then you won't have to worry about DGS. Using their sight is easy for those who are familiar with it. But, for those who are new, they may get a bit overwhelmed. But after they overcome the initial surprise of the many features and details of DGS, they will be able to learn how to use it in a few days.
Basically, you can customize the sports betting software to suit your needs. While there is quite the learning curve, you will eventually learn and be able to do things like integrate banking options to the cashier section of your site. You can also use it to generate reports, and access other options that the most popular sportsbooks have,.
This is especially true as DGS is used around the world by different sportsbooks. They are customized, down to the options and aesthetics, but at its core, the best ones use DGS. Of course, their basic model alone works well. Its easy to use, which is a great help to those who are new to the business.
Should You Use DGS Sports Betting Software?
DGS is one of the most reliable sports betting software providers. Their user interface is okay, the simplicity even through the features are jam-packed is great.But the basic DGS outcome that you will get may be a bit underwhelming. Its best to opt for providers who are able to give you a much-improved, value-added sports betting sportsbook experience.
Open Your Own Sportsbook with PricePerPlayer.com and Try Them For Free Today!

DGS
Average rating:
0 reviews