Are you a LeBron fan? Or are you rooting for the underdogs? Before you bet on the NBA finals, be sure you read our tutorial first. That way, you'll know the ins and outs of betting on basketball games.
Our guide will discuss several betting types the NBA offers, including Spread, Moneyline, and Parlay. Learn about the different ways you can wager on the NBA finals games.
Spread Bet on the NBA Finals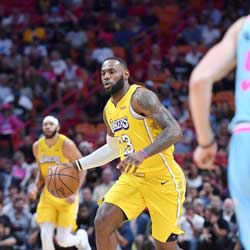 You can expect both teams to have high scores in NBA final games. Thus, sports betting platforms use a spread to balance the chances of either team to win a bet. It is common to see point spreads of 15+ points, which is rare in NFL betting. For instance:
Lakers -4.5 -110
Heat +4.5 -110
For the example above, it is the opening line for NBA Finals Game 1 between the Lakers and Heat. The -4.5 indicates that the Lakers are the favorite. The -110 next to the line is the vig or the fee collected by the sportsbook.
Betting $110 on the Heat would improve your bankroll by $100 if the Heat covers the spread. Also, the + after the spread indicates the underdog. The – denotes the favorite.
Moneyline
Handicappers create moneylines on the sports betting odds on who will win the game. The odds can be drastic if a powerhouse team faces a team that's struggling to stay above .500. For NBA Finals Game 1,
Lakers -185
Heat +165
For example, the Lakers are the favorites. Betting $185 on the Lakers will earn you $100 in profits. On the other hand, betting $100 on the Heat would make you $165.
Parlay
Just like other sports, you can parlay or combine your wagers to increase the payout. To win a parlay bet, you need to cover all wagers. You can combine spread and moneyline wagers to improve the sports betting payout.
Here are some ways you can bet on the NBA Finals. Always check the sports forums or betting picks to get some information about the teams before placing your bets.
Bet on NBA finals with VOBET, the best sportsbook in the world!