Looking for the perfect bookie software takes a lot of trial and error. We at 1MediaNow aim to reduce that by giving you our pay per head reviews. Some pay per head providers make it easy by giving out free trials, but some do not. In even gets more complicated because not all pay per head providers offer the same set of services at the same price point. With all the complications of comparing all of them, our review will simplify the process. Which you will see in our Bwager.com pay per head review.

First, we'll talk about Bwager's origins. Bwager.com has been in business since 2013. With almost 10 years in the industry, they have gained quite the reputation as the go-to for bookies. They have been helping bookies with both small and large operations manage their sports betting businesses. They started out as a gambling software provider,  but now offer bookie software services mainly, and other gambling products as well.
When it comes to their business, most of the feedback that we hear, and see online are positive. We do want to check if this is organically made, so we will be taking a look to see if they really have managed to maintain their quality of service over the years.
Bwager.com Info
Inception: 2013
Location: Costa Rica
Platform: DGS
Price Per Player: $5
Telephone: +506 6021 8029
Live Chat: yes
email: info@bwager.com
Website: bwager.com
Current Promo: 2 Weeks are Free
Bwager.com Features

Sports Betting: yes
Live Betting: yes
Prop Bet Generator: Yes
Racebook: Yes
Online Casino: Yes
Live Casino: Yes
Poker Room: No
Mobile Wagering: Yes
Phone Wagering: Yes
Bwager.com Pay Per Head Review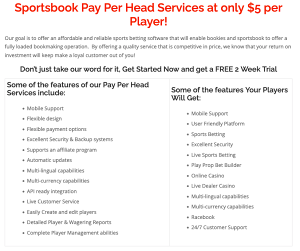 Bwager, at first glance, seems just like bookie pay per head provider. But the more we used their software, the more we felt the higher quality of their software service. For one, the process to sign up and configure your sportsbook is seamless. You can do it in minutes, and you do not need to wait for someone in sales to get things done for you. You get total control of your sportsbook here.
Next, would be the interface of the sites. Both the bookie software and the sportsbook site that players can see are so easy to use. The design is simple, its layout clean. There is no need to click through a lot of pages to get where you need.
A quick perusal of the menu can lead you where you need to be. And if you need help? The support button is there. We never really needed to use it, but for the sake of the review, we tried it out, and we were happy with our conversation with them.
It does have all the tools that a bookie will need- line and player management sections that can be updated in real time for one. They also have a report generator tool that every bookie should use.
And, one of the things that we like the most about this pay per head provider, is their ability to help you with whatever gambling requirement that you have. For bookie requirements, you can manage a small sportsbook operation easily. And when you eventually expand your operations to a larger scale, then you can rely on them to give you the same quality of service. There won't be delays, additional charges, and the like. And if you wantt o add horse racing, or even an online casino, they you can do in a few clicks. The system is fully integrated so you and your players will not need to do anything. No additional signups, no separate deposits.
Should You Use Bwager.com?
Our quick answer is yes. Bwager is very low profile, and not the flashy site that some pay per head providers promote themselves as. But honestly, they dont need the sparkle and all that because their product speaks for itself. We love the software, and how easy it is to use. We love how easy it is to get started and how easy it is for players to join. In our opinion, its one of the best we have seen in recent years, and we wish we had done a review on them earler.
Open Your Own Sportsbook with Bwager and Get Two Weeks Free!
Bwager
Average rating:
0 reviews