Last Friday, the San Diego Padres vs Colorado Rockies had an exciting match. There were 15 runs for a final score of 8-7 with the Padres on top. The highlight of the game was in the 9th inning as San Diego came from behind with four runs.
The Padres are on top of the NL West with a 6-2 standing. Although most baseball betting fans are talking about the Dodgers, the Padres have been performing well from the start of the shortened season. Thus, they have the chance to win the NL West over Los Angeles.
Betting Prediction for 08/01/2020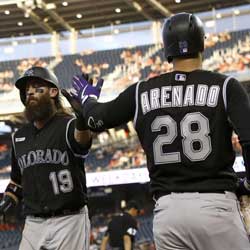 Los Angeles Dodgers is still the team to beat in the division. They are a point behind the Padres. However, the Dodgers lost against Diamondbacks last Friday. As a result, it is a must-win match for the Padres.
According to sportsbook pay per head reviews and news reports, Tommy Pham had four RBIs on a two for five at-bats. On the other hand, Charlie Blackmon led Colorado with three RBIs with three for five at-bats. Also, Jon Gray had a strong performance by conceding four hits and two earned runs through 5.2 innings. However, despite his performance, the Padres earned eight runs from him.
Pitchers have a problem throwing at Coors Field. There are only a few pitchers who do well in Denver, and one of them is Gray. On the other side, Garrett Richards didn't know how to handle the elements in Colorado.
For the game Saturday, the Padres will have Joey Lucchesi and the Rockies named Kyle Freeland as the starting pitcher.
San Diego Padres vs Colorado Rockies Betting Pick
Game time: 08/01/2020 at 8:10 PM ET
Bet on the Rockies at -105
Both teams have strong starts. Although the Padres are hoping for an excellent performance from Lucchesi, the home team is gunning for a win. Maybe you should start a bookie business and accept wagers for the rest of the MLB games.