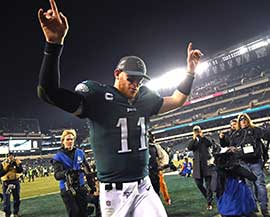 1MediaNow provides sports betting picks on upcoming sporting events. Whether it is basketball, football, soccer, mixed martial arts, or eSports, we publish free sports betting predictions regularly. Our goal is to help our readers make smart wagers on sports.
Our sports handicapping articles and free sports betting picks can guide people when wagering on sporting events.
Our staff members create basketball, volleyball, and football betting picks based on actual facts and other factors.
Be sure to visit our site often to read the latest betting picks and other sports betting articles.
Latest Sports Betting Picks
BetOnline.ag is one of the best online sports betting site in the industry with decades of experience. Check out their promotions, you won't regret it
VOBET is one of the top online sports betting site for the Asian and European market.  They have the excellent betting odds and bonuses.
Read more Sports Betting Picks
The NFL will have a victor on February 2 in Miami with the Chiefs vs 49ers game. Super Bowl LIV NFL wagering lines opened with Kansas City as the slight top choices. After the 49ers won against the Packers, the Chiefs became 1.5-point top picks. Bookies set the...