If you base it on history, the Bucks vs Heat Eastern Conference semis is over. The fifth-seeded Miami has a 3-0 lead over the top-seeded Milwaukee. Game 4 of the series will be on Sunday.
No team got back from a 0-3 deficit in the NBA. The Heat earned the 3-0 lead by outscoring the Bucks, 40-13 in the last quarter of Game 3. It was the largest fourth-quarter differential in NBA playoff history.
Betting Prediction for 09/06/2020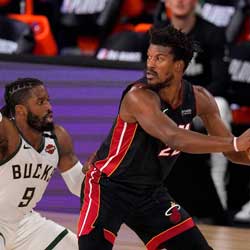 The Milwaukee Bucks had the best regular-season record. Also, it has one of the best players in the NBA in Giannis Antetokounmpo. According to basketball betting reports, the reigning MVP and Defensive Player of the Year can't help the team from being eliminated from the playoffs.
Based on a sports forum, Antetokounmpo barely missed a triple-double in Game 3 with 21 points, 16 boards, and nine assists. However, he missed seven three-point shots. Also, he was seven out of 12 from the free-throw line.
Antetokounmpo praised Miami for playing hard for the whole game. He added that the Bucks couldn't win against the Heat if they are playing hard for 24 minutes or 36 minutes when their opponents were going hard for the entire duration of the game.
To be fair for Antetokounmpo, he had an injured ankle in Game 3. He injured it in the first quarter while driving for a basket. It is still unclear how the injury will affect his performance in Game 4. Also, he didn't talk about the ankle injury after the last game.
Bucks vs Heat Betting Picks
Game time: o9/06/2020 at 3:30 PM ET
Bet on Miami at -110
Our basketball betting pick for Game 4 will be the Miami Heat. They will try to sweep the Bucks and advance to the next round.